Technical Sergeant Harold J. Davis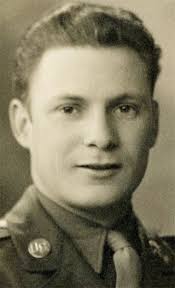 Born on June 4, 1920, in Sparrows Point, Maryland, he lived his life in Remington and Culpeper. On November 13, 1941, he entered the U.S. Army and was immediately sent to Europe and into battle during the Second World War.
During his career Sergeant Davis served as platoon sergeant and fought in Operation Torch, Crucifix Hill, Omaha Beach and the Battle of the Bulge. Incredibly, in each battle Sergeant Davis would be wounded, sent for medical care, and then he immediately returned to battle.
On March 1, 1945, while advancing on a small town near the Erf River, his platoon was under heavy artillery fire. A shell landed nearby him and pieces of shrapnel hit him in the arm and leg. He hobbled about 600 yards toward an aid station and then fell. It was these wounds that ended his participation in the War and he was ultimately sent back home for treatment.
Sergeant Davis spent 32 months and 13 days fighting in World War II. For his actions Sergeant Davis was awarded the American Defense Service Medal, Good Conduct Medal, Four Purple Hearts and the Bronze Star with Valor. 
On June 21st, 2017, American Legion Post 247, Remington, Virginia was officially renamed in honor of TSGT Harold J. Davis, a charter member of the post.
Articles about TSGT Harold J. Davis
Medals Earned by TSGT Harold J. Davis
Campaigns/Battles in which TSGT Harold J. Davis fought